Sheep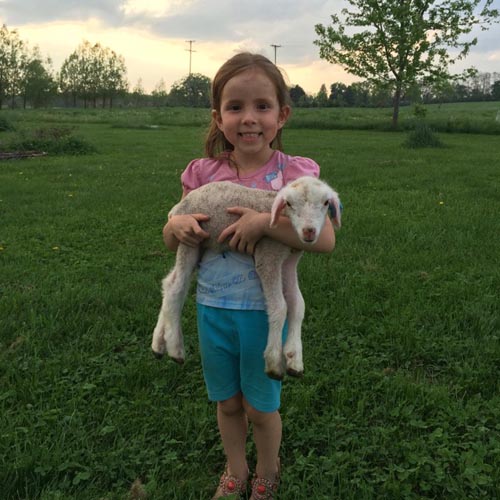 You don't eat no meat? That's ok. We've got lamb. We have a flock of ewes that are great moms and love to be on pasture munching grass and chewing their cud. We raise the Polypay breed of sheep, which are known for averaging two lambs per birth, being excellent moms, and doing well on a pasture-based diet. Polypays are desired for their fertility and mothering qualities and so large-scale shepherds like to breed Polypay ewes to larger framed rams to produce exceptional. Besides producing exellent meat, the sheep also provide us with an ample annual supply of wool that we use to make rugs and various handicrafts that are always for sale. Our kids love raising and showing lambs at the Washtenaw County 4-H fair each summer. We anticipate that we will have extra lambs to sell for children interested in getting involved in showing lambs. They will be ready to purchase in April.
We lamb three times a year in January, May, and September so that each ewe can have a litter of lambs three times in two years. Although our production system is largely pasture based, to avoid the unpredictable Michigan weather, our ewes lamb in our barn where they get off to a great start. During the grass-growing season the sheep move to fresh sections of pasture every day. They eat stockpiled forage. When the lambs are about 60 days old they are weaned. Because our growing season is so short and we find the sheep don't gain weight on hay, we we supplement their forage based diet with spent barley from a local brewery and some corn from a local farm. We like to have our animals weigh 120 pounds before we market them to our buyers so that the hanging weights are about 60 pounds. Although lamb is often criticized for tasting strong or gamey, this is often a breed or management-specific trait that does not affect our meat. We get wonderful feedback on the wonderful flavor of our lamb and many can't distinguish meat from older animals (mutton) from that of the lambs. Traditionally, lamb has been a popular source of protein because it is a small enough animal to grow quickly and feed a family without taking up a bunch of space. We hope that we can provide that opportunity for your family.
We select for animals that do well on grass and are able to lamb by the time they are 1 year old. To help us make selection decisions, we participate our animals' weights, pedigrees, and breeding records into the National Sheep Improvement Program (NSIP). Occasionally we have ewes and rams for sale as breeding stock.